THE BIG STORY: One day before some key primaries (including the yooge ones in FL and OH), the violence at recent Trump rallies was discussed MANY times in the media. The sheriff of Cumberland County, NC even briefly considered filing charges against Trump over the violence that happened at his rally in Fayetteville last week (our own Brad Krantz has some thoughts on that here)
DJT's terrible spokesmouth spokesperson Katrina Pierson didn't go to the movies in the 1980s. Sarah Palin used racial slurs  dog whistles to denounce recent protestors at Trump events
What we don't have time for is all that petty, punk ass little thuggery stuff that's been going on
Sure, Sarah. Because time is super tight for you. What with your appearances on Fox your own TV network radio career teaching the kids about birth control all your "projects", it's just great that your able to ahow up for these Trump rallies at all. By the way, get well wishes to The First Dude. Kind of easy to see how that happened: After a number of years of being married to Sarah Palin, wouldn't you be tempted to just take your snowmobile snow machine and crash it into a tree?
You think that was insensitive?
Donald was so proud of this…
Gosh! That looks like a real endorsement from baseball's Hit King™ Pete Rose. Hit King loves Shit King. Match made in heaven. Yeah…not so much
Baseball legend Pete Rose did not endorse Donald Trump nor did the former Reds great autograph a baseball for the GOP presidential front-runner, Rose's lawyer said Monday night.

Raymond Genco told The Enquirer the baseball in the photo that Trump tweeted on Sunday night was not signed specifically for the billionaire real estate mogul, even though it is addressed to him and includes Trump's signature campaign slogan
Anti-Trump ad shows women reading negative comments from Trump
This is like Jimmy Kimmel's mean tweets. It's meant to appeal to women, obviously, but it's not clear whether there's a woman left in America who is unaware that the Republican frontrunner is a pig
Anonymous is going HAM on Trump
Trump has been targeted because according to the masked activist, "yourinconsistent and hateful campaign has not only shocked the United States America, you have shocked the entire planet with your appalling actions and ideas."

Using the #OpTrump hashtag, the collective is asking for help to bring down TrumpChicago.com on April 1. It also plans to target personal and business sites like donaldjtrump.com, trump.com, trumphotelcollection.com and the candidate's online presidential destinations including donaldtrump2016online.com and citizensfortrump.com
Let's look at the polls, just ahead of Mega Tuesday™. DT is killing it in FL. In fact, there's a better chance of Rubio finishing third than first. The trend on OH has been good for Kasich. There hasn't been a great deal of polling in NC, but what has been done looks good for DJT. Again, in IL, not a lot of data, but it's favorable for a Trump victory on Tuesday. Not much polling in MO either, but Trump's got the advantage there, too. Ohio and Florida are especially important, since they are "winner takes all" primaries, in which the winner receives all of the delegates
Japan worried about Trump's rise
"To start with they just thought 'he's funny'," said Masatoshi Honda, a professor of politics at Kinjo University. "But recently they're starting to worry — what happens if Trump wins?"
Don't worry, guys. I'm sure it'll be fine
China isn't thrilled about the prospect of President Trump. QUICK! Someone photo shop him driving a tank at Tiannamen Sqaure
Mormons seem to be sick of Trump
Members of the Church of Jesus Christ of Latter-day Saints, do not seem as enthralled with the Trump phenomenon. If a recent primary and caucus in Idaho and Wyoming are any indication, Trump is having trouble appealing to Mormon voters. Idaho has the second largest population of LDS citizens, while Wyoming has the third.

Senator Ted Cruz of Texas pounded Trump in Southern Idaho, a part of the state populated with a large number of Mormons, and in Wyoming, Trump only got seven percent of the vote
Utah, of course, has the largest population of Mormons in the U.S. and can be called the most conservative state in the Union. Discounting Mormon candidate Romney's results from '12, George W. Bush had his largest margin of victory in Utah in '04. McCain beat Obama by 28 points in '08. This seems to fly in the face of DJT's claims that conservatives and evangelicals "love me"
Recent endorser Ben Carson says that even if The Donald sucks at being president, it's only four years
"Even if Donald Trump turns out not to be such a great president, which I don't think is the case, I think he's going to surround himself with really good people, but even if he didn't, we're only looking at four years as opposed to multiple generations and perhaps the loss of the American dream forever," Carson told Newsmax's Steve Malzberg

"We haven't hammered out all the details," Carson said when pressed on whether he had been promised a Cabinet post or something else. "I'm not going to reveal any details about it right now because all of this is still very liquid."
That should make you feel better: Will President Trump be worse than Surgeon General Ben Carson? And can Ben Carson separate Chris Christie from DJT?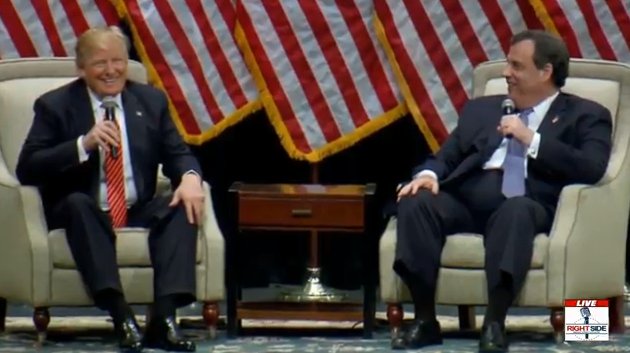 That was from Monday in Hickory, NC. See? That doesn't look like an event where you'd get your ass kicked, does it? It looks like an infomercial. Maybe you're being sold a Sham Wow!
Or snake oil…