We've entered a strange period of Governor McCrory's strategy in dealing with the disastrous fallout of HB2. It's really a two-tract plan:
Distraction/Diversion
Blame everyone else
We were given a couple of nice distractions today. This beauty was published by the Governor's Office Tuesday morning
It shows McCrory addressing the Sheriff's Association and getting a standing ovation. He receives love from the gathered throng and tells them he loves them right back. MESSAGE: All is well
Hey, pal: Your governor has got this. Now, you get back to wondering what Sally Ann is going to make for the church picnic on Sunday. And, for gosh sake, don't let her kill those deviled eggs with too much paprika. Okay, Tiger?
And if you were worried about the hundreds of jobs not coming to North Carolina because of HB2, Uncle Pat's got you covered on that, too. McCrory put out a press release about a pharmaceutical company that's coming to Durham
Governor Pat McCrory, North Carolina Commerce Secretary John E. Skvarla, III, and the Economic Development Partnership of North Carolina (EDPNC) announced today that an expansion by Aurobindo Pharma USA, Inc. will bring 275 new R&D and pharma-manufacturing jobs to Durham. The New Jersey-based maker of generic pharmaceuticals plans to invest over $31.7 million in a new state-of-the-art national headquarters for specialty pharmaceutical R&D.

"We welcome the decision by Aurobindo Pharma to undertake this significant expansion in the Research Triangle," said Governor McCrory."Our state is eager to partner with this global company as it embarks on its business objectives and grows its presence in North Carolina's life sciences community."
All is well. All you lefty dummies who keep decrying the loss of jobs and the damage to North Carolina's economy, SUCK ON THAT!
Part two of McCrory's cunning plan unfolded in, of all places, The New York Times on Monday. McCrory says the liberals tricked him
No, really
On Thursday, he said he suspected that the entire matter had been orchestrated by Democrats and the Human Rights Campaign, a national gay rights group, to give Democrats an advantage in a tight governor's race.

The backlash, he said, has allowed for no dialogue on "a very complex issue." Dissenters to the left-wing position, he said, were being intimidated. Mr. McCrory used the word "Orwellian" twice.

"You've got to be politically naïve if you think this is not coordinated by a very effective — a very effective — group," he said
Apparently, the Bilderbergers, the Masons, and the Jews were busy on other projects
I expect, at some point, McCrory will emerge from the Governor's Mansion in early fall, with a long, white beard, mumbling something about The Spruce Goose and disinfecting his hands constantly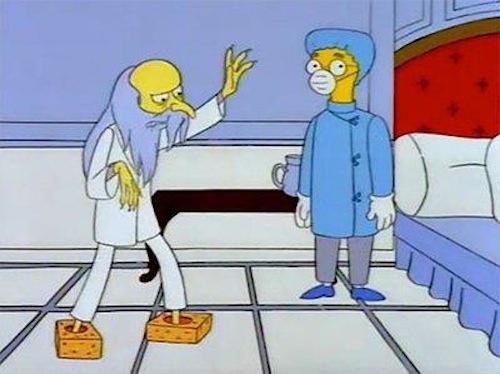 At night, I imagine, some highly-compensated consultant takes his head in their arms and strokes his hair as he tells the governor "It's not your fault" and wipes his brow with a cold washcloth
We've got six months until the general election and the governor got some good news because a Public Policy Polling poll shows he doesn't suck as much as he thought he did. It shows the governor in a virtual tie with his Democratic challenger, Attorney General Roy Cooper. But, wait: There was also bad news. HB2 isn't quite as popular as previously thought
Just 36% of voters in the state support HB2, to 45% who are opposed. Independent voters are against it 33/46, and Democrats (20/63) are more unified in their opposition to the bill than Republicans (56/24) are in their support. Voters think the bill is having a bad effect on both the state's economy and its overall reputation. 54% think it's had a negative impact on North Carolina's economy, to only 11% who think it's having a positive impact. On that front even GOP voters by a 17 point margin grant that it's having a more negative than positive effect on the state economically. 53% of  voters think HB2 has had a negative effect on North Carolina's national reputation, to only 22% who claim they think it's had an overall positive impact on the state's image. Because of these things, just 32% of voters in the state think HB2 is actually helping North Carolina, compared to 53% who think it's hurting the state. Independent voters, by a 53/30 spread, side with Democrats in thinking that HB2 is doing a lot more damage to the state than good.

Voters also don't think HB2 is having the positive impact it was purported to have. Only 37% think its passage has made the state safer, to 44% who think it has not. Again on this aspect of the issue independents join with Democrats in saying by a 34/44 spread that it's not making North Carolina safer
You think those damn liberals got to them, too, Pat?
Sadly, I expect the finger-pointing to continue in Raleigh. He'll be pointing fingers so hard and so fast that he might just strain a ligament and need medical treatment
I sure wish somebody could deliver one of those fancy mirrors to the Governor's Mansion
Not that McCrory would bother to look into it. Not unless the consultant told him to